Dicipta oleh pakar imun, Dr. Yasuhiko Kojima
Satu-satunya suplemen yang dicipta oleh pakar imun - Dr. Yasuhiko Kojima.
Lebih daripada 40 Tahun Penyelidikan
Dr. Kojima berjaya mencipta Nutriferon
®
selepas beberapa kali menjalankan ujikaji dan penilaian terhadap beribu-ribu sebatian dan lebih daripada 200 herba lain.
Nutriferon
®
mengandungi satu campuran proprietari ekstrak tumbuhan semulajadi yang berasal daripada biji labu, benih plantago, kuntuman bunga Japanese Honeysuckle dan bunga safflower. Boleh didapati secara eksklusif melalui Shaklee.
Vivix™
Minuman campuran botani merupakan revolusi terbaru di dalam pemakanan polifenol.
Vivix ™
mengandungi campuran unik botani
Polygonum Cuspidatum, Anggur Muscadine, Elderberi Eropah dan Lobak Ungu
yang kaya dengan polifenol. Polifenol adalah kumpulan fitokimia yang terdiri daripada sebatian tanaman yang mengandungi khasiat
antioksidan dan sel anti-penuaan semulajadi.
Kebaikan
Vivix™ :
Memelihara keseluruhan kesihatan
Membantu anda berasa lebih bertenaga
Menguatkan sisterm Imun
150ml -
Retail Price : RM475 (WM), RM499 (EM)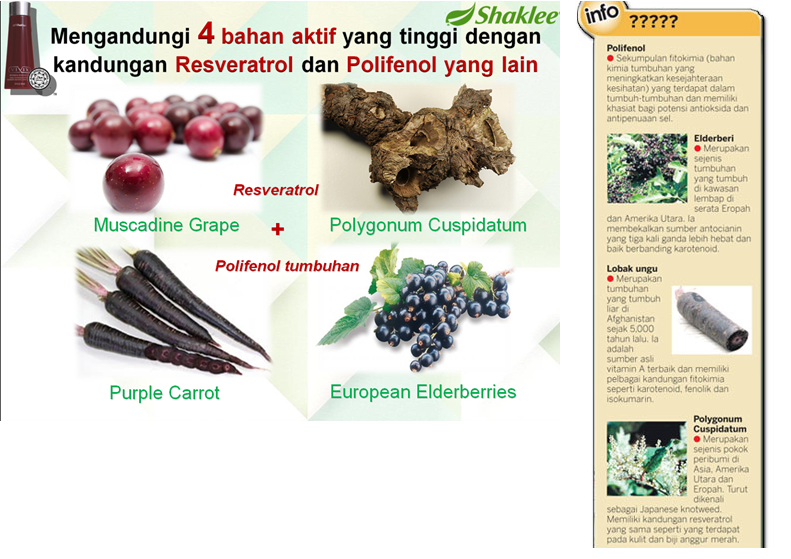 For more info and to order, you may reach me at:
Email: mybazla_900921@yahoo.com We chat- lala900921
Saya merupakan Pengedar Sah Shaklee dengan ID 1150659. Anda boleh dapatkan produk Shakle dari saya.
Have a nice day ..
NoorBazla
Shaklee ID 1150659